Over at
Yearn to Lear
n they are having a Blog Mixer Linky! Stop by and check it out....so much fun!
1) New kid -
Sister Teachers
have been blogging since the beginning of July. Very fun stuff over there.
Also I just started this blog! Having so much fun with all the linky parties!
2)
First Grader....at Last
teaches the same level as I do. She has an A-M-A-Z-I-N-G blog!!
3)
Lory's Page
is a second grade blog that has so many cute things on it. Lots of great downloads!
4) Isn't that a super cute button with the little owl and the balloons!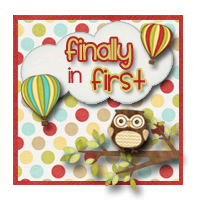 {this is from
Finally in First
}